Dates: 16-20 juil. 2022

Tarifs:
Sábado 16 de julio de APERTURA 17:00 a 21:30 horas.
Domingo 17 de julio de 17:00 a 21:30 horas.
Lunes 18 de julio de 17:00 a 21:30 horas.
Martes 19 de julio de 17:00 a 21:30 horas.
Miércoles 20 de julio de 17:00 a 21:30 horas. CLAUSURA
Adresse: Salón Bahía del Palacio de Exposiciones y Congresos
C/ Real Racing Club, 3, 39005, Santander, ESPAGNE

Horaires d'ouverture:
Abierto al público (ENTRADA GRATUITA)

Artesantander 2022: The fair already has the 42 projects selected for its 30th edition
• The proposals, artists and applicant galleries stand out for their high level of quality.
• The Bahía Hall of the Palacio de Exposiciones y Congresos de Santander will host this year's event.
Artesantander 2022 has received a total of 85 projects, 78 of which have been definitively assessed by the selection committee, as several were rejected for not meeting any of the participation requirements.
78 projects from 78 national and international galleries that competed for the 42 stands at the fair. The organization is committed to maintaining the number of stands and its hallmark: '42 spaces turned into small museums within the reach of its visitors'.
This 2022 edition presents an excellent list of proposals and galleries for this thirtieth edition. The galleries applying to participate in the fair are increasingly adjusting their projects and quality, along with their approaches, and are more and more adapted to the concept of a project fair that somehow wants to be a still photo of the Spanish and international gallery scene.
In the opinion of the selection committee, out of the 78 projects presented, more than 60 were worthy of being discussed. These are artistic projects that are increasingly tighter and with more intention, which to some extent means more work and more decision making on the part of the fair. Artesantander is more than an art fair, it is also a cultural event, and therefore, sensitive to new artistic languages that somehow refreshes the scene a bit.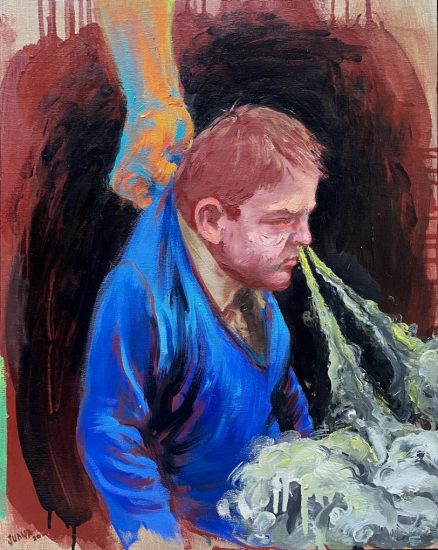 Poder_2020_OL_50_x_40_cm Juana González-Galería Siboney
The international representation among the participating galleries are: three Latin American; one Uruguayan and two Mexican; and among the European ones there are German and Portuguese galleries along with the Spanish ones.
14 galleries are participating for the first time in the fair: Armaga from Leon, Bard El Jundi from Marbella (Malaga), Chiquita Room from Barcelona, F2 from Madrid, Fernando Pradilla from Madrid, Galeria das Salgadeiras from Lisbon (Portugal), Galeria Del Paseo, Uruguay, Galerie Ulf Larsson from Cologne (Germany), Jorge Lopez Galeria from Valencia, Martinez&Avezuela from Madrid, Nave from Lisbon (Portugal), Nordes from Pontevedra, Picnic from Madrid, Pradiauto from Madrid and Proyecto Paralelo from Mexico.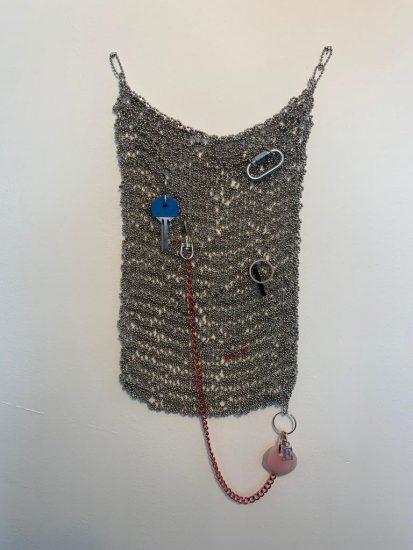 Esther-Merinero_-_Punto_metalico_I_en_proceso Galería Pradiauto
From the organization of the fair we highlight this fact and something that is highly valued by the institutions that support the project (Government of Cantabria through the Vice-Presidency – Ministry of Universities, Equality, Culture and Sports; and the City Council of Santander): The consolidation of an international project of Contemporary Art, in a difficult national and international context, and despite the suspension of the 2020 edition due to the health crisis. Artesantander remains in time and adds support and important incorporations every year.
The selection committee of the Fair has been formed on this occasion by: Alejandro Alonso Díaz, (Santander 1990) is director and curator of Fluent, a para-institution dedicated to contemporary art and research that presents exhibition cycles, texts and public programs. Javier Díaz Guardiola (Madrid, 1976) has a degree in Journalism from the UCM. He began his professional career at Agencia EFE and ABC newspaper. He currently coordinates the art, architecture and design sections of ABC Cultural and ABCdeARCO. He is the author of the contemporary art blog « Siete de un golpe ». Vanessa H. Sánchez runs the Silvestre gallery together with Pep Antón Clua, a gallery specializing in contemporary painting. She has a degree in Art History and a Master in Analysis and Management of Contemporary Art. María Regina Pérez Castillo, (Loja, Granada, 1989) holds a PhD in Art History from the University of Granada. Since 2011 she has been collaborating as an art critic for journalistic media such as Diario de Sevilla or Granada Hoy. At the same time, she has developed her career as a curator in art galleries. Carmen Quijano, (Santander, 1976) has a degree in Art History from the University of Salamanca. She is a cultural manager, independent curator and designer. Responsible and co-director of the Confluences Program and the Espora Project.
Cantabria will have the presence of several galleries: Espacio Alexandra, Espiral, Exhibit, Juan Silió, and Siboney, all of them galleries belonging to the Association of Art Galleries of Cantabria.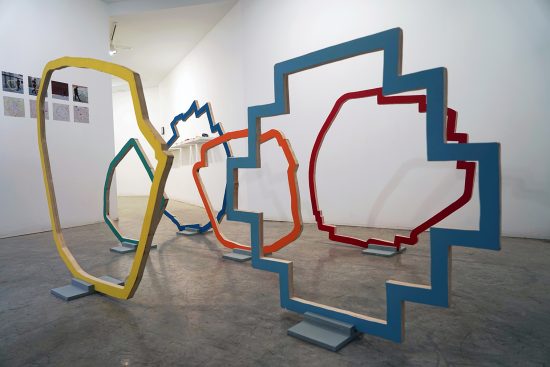 Eltono._6_Aros._1 Galería Set Espai D´Art
Galleries selected for Artesantander 2022
GALLERY (Provenance) ARTIST
1. Adora Calvo (Madrid) Juan Hidalgo
2. Antonia Puyó (Zaragoza) Jorge Isla
3. Ármaga Art Gallery (León) Jonathan Notario
4. ATM (Asturias) Víctor Esther García
5. Badr El Jundi (Marbella-Málaga) Lucía Tello
6. Chiquita Room (Barcelona) Sara Agudo
7. Eldevenir Art Gallery (Málaga) Irene Sánchez Moreno
8. Espacio Alexandra (Cantabria) Elena Mendizábal
9. Espacio Líquido (Asturias) Noemí Iglesias
10. Espiral Art Gallery (Cantabria) Joaquín Martínez Cano
11. EtHall (Barcelona) Martín Vitaliti
12. Exhibit (Cantabria)Debbie Reda
13. F2 Art Gallery (Madrid) Emmanuela Soria Ruiz
14. Fernando Pradilla (Madrid) Rubén Rodrigo
15. Formato Cómodo (Madrid) Berta Cáccamo
16. Gallery Álvaro Alcázar (Madrid) Rebeca Plana
17. Gallery Caicoya (Asturias) María Gimeno
18. Gallery Daniel Cuevas (Madrid) Linarejos Moreno
19. Gallery Das Salgadeiras (Portugal) Rui Soares Costa
20. Gallery Del Paseo (Uruguay / Perú) Azul Caverna
21. Gallery Javier Silva (Valladolid) Vítor Mejuto
22. Gallery Juan Silió (Cantabri) Manuel Minch
23. Gallery MPA (Madrid) Elvira Amor
24. Gallery Rafael Ortiz (Sevilla/Madrid) Gerardo Delgado
25. Gallery Silvestre (Madrid Gloria Martín
26. Gallery Yusto-Giner (Marbella-Málaga) Daniel Núñez
27. Galerie Ulf Larsson (Germany) Fátima Conesa
28. Jorge Lopez Gallery (Valencia) Valeria Maculan
29. José de la Mano (Madrid) Manuel Calvo
30. La Gran (Madrid) Josep Tornero
31. Llamazares Gallery (Asturias) Alejandro Botubol
32. Martínez&Avezuela (Madrid) Eva Rodríguez Góngora
33. My Name's Lolita Art (Madrid) Gonzalo Sicre
34. Nave (Portugal) Susana Rocha
35. Nordés (Santiago de Compostela) Mar Ramn
36. Picnic (Madrid) Ana de Fontecha
37. Pradiauto (Madrid) Esther Merinero
38. Proyecto Paralelo (Mexico) Ana Bidart
39. Rafael Pérez Hernando (Madrid) Anne Buckwalter
40. Set Espai D'Art (Valencia) Eltono
41. Siboney (Cantabria) Juana González
42. Vanguardia (Vizcaya) Txuspo Poyo
This anniversary edition adapts its dates, as has been the custom, to coincide with the on-site sessions to be held at the UIMP of the Course on Collecting and Contemporary Art organized by the IAC and the 9915 Collectors Association, which has been a complement to the fair's call for the past eight years, this year nine, and a mutual reinforcement. The IX Meeting on Collecting, Contemporary Art and Society will take place within the program of summer courses of the UIMP, under the heading on this occasion of 'COLLECTING AND ART CENTERS. Initiatives for the promotion of Contemporary Art », from July 18 to 20 at the Palacio de La Magdalena in Santander.
CONTENTS: 42 galleries of Contemporary Art (painting, sculpture, installation, photography, new technological supports, graphic work, drawing and multiple).
ORGANIZATION: Direction of the fair: Juan González de Riancho Bezanilla.
Coordination and Communication Manager: Elena Casquero Nava
WITH THE SUPPORT OF:
-Vice-presidency and Department of Universities, Equality, Culture and Sport of the Government of Cantabria.
-Department of Culture. Santander City Council
Translated with www.DeepL.com/Translator (free version). Original text in Spanish. See original version on: https://es.artprice.com/events/9870/ARTESANTANDER/
Poder_2020_OL_50_x_40_cm Juana González-Galería Siboney
---